By Hal Horowitz

Originally published in Leasing News

Wednesday, Jan. 10, 2018

Immediately following my candidates' interviews, I am on the phone with my candidate and then my client, collecting the juicy details of their meeting. Our discussions include an assessment of the candidate's technical skills; if he's a fit for the company culture; how well the position matches the candidate's requirements for challenge and opportunity; whether each is interested in moving the process further along; if compensation was discussed; and, the concern I ask about first, how was the chemistry between them.

​Did they hit it off on professional level? Did they each break the ice comfortably? Was there a trust-bond established? Did they find their dialogue open and credible? Did they communicate horizontally or vertically? Could they see themselves working together in their respective capacities? I ask about the chemistry between them because that is what will set the tone for the entire rest of the interview. It's my guestimate that probably 80% of the decision to hire someone over other equally qualified candidates is based on the rapport the candidate and the interviewer were able to establish.

In some ways, an interview is much like a date. You each want to impress the other, enjoy the time you spend together and end it on a high note, hopefully wanting to see each other again. In other words, you hope you and your date will feel the chemistry. But while an enjoyable date can last several hours over a dinner, perhaps, and a movie, the chemistry that needs to be created during an interview must typically must happen in a more restricted and finite amount of time.


You cannot force chemistry. But there are steps you can take to help you quickly connect with a complete stranger and enhance your odds for another meeting.Assess

. Take a moment to look around your interviewer's office and see if there is anything that jumps out at you that might establish shared interests. Family pictures, sports paraphernalia, a nice view of the city, or even they commonality of chosen fields of interest. Use these as brief ice breakers. Be cautious of seeming to pry or wasting too much of your interviewer's, and your, time on non-job-related matters. Take note of your interviewer's personality traits; will she be looking for succinct or detailed answers?

​

Listen. Try to keep your meeting conversational rather than just Q&A. When your interviewer is conducting her part of that conversation, listen attentively. Don't be anxious to respond; you'll have your opportunity. Observe hints of your interviewer's personality and temperament.​

---

Respond. Let your interviewer know you were interested in what she had to say. Answer her questions directly. Don't come across as a know-it-all, or as someone who wants to create a whole new paradigm, but rather as someone who understands the corporate culture, who shares its values and its visions, and who wants to contribute to its goals.

Share. Be proud of your accomplishments and achievements. Explain the value of your contributions to your former employer, but more importantly, how your experience will add value to this new company and your team.

Demeanor. Be aware of how you say what you have to say. Pay attention to your body language, your tone of voice and its inflection, and making good eye contact. (I am not a fan of visual mirroring; it's overused, often transparent and can be seemingly patronizing.) Relax when you speak so your responses don't sound forced. Your body will betray whether you're paying attention or you're aloof; whether you're interested in what the other person has to say, or if you are someone who leans too far into another person's space; and if you're being completely open or if you're holding back.

Feeling a connection with your interviewer doesn't have to mean she will become your lifelong friend, your advocate or your mentor. Many jobs are attainable without having to make any kind of connection, and others, even with good chemistry are not. What having that chemistry with your interviewer does, though, is give you a leg up as an applicant for that position (especially if the position requires that you establish, develop or manage new and/or existing relationships, or need to interface extensively with others), and that leg up, that chemistry that you were able to establish with your interviewer? Well, it might have been the deciding factor between you and some other equally qualified candidate.

Powered by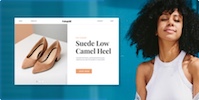 Create your own unique website with customizable templates.